NERV Disaster Response Vehicle Introduction Video


Reflection is about thinking about the future

The NERV Disaster Response Vehicle is a PHEV, a hybrid vehicle with power generation capabilities, that can be deployed to ensure that our information dissemination activities can continue in the event of an accident or disaster that results in a prolonged power outage.

When we imagined what would happen if a blackout like the one caused by the 2018 Hokkaido Eastern Iburi earthquake were to occur in the Tokyo metropolitan area, we could see ourselves helplessly regretting our lack of preparedness. As long as such events are possible, we want to be as prepared as possible.

Voice Actor: Tetsuya Iwanaga (portrayed Kensuke Aida in the Neon Genesis: Evangelion series) / Planning and Production: Gehirn Inc. / Video Production: mimoid inc. and Shunsuke Sugiyama / Music Production: PASOCOM MUSIC CLUB / Audio Production: Takaki Kato (TREE Digital Studio) / Assistants: Ayuko Kuwata, Kanta Doki, Yutaro Nakamura / Cooperation: Mitsubishi Motors Corporation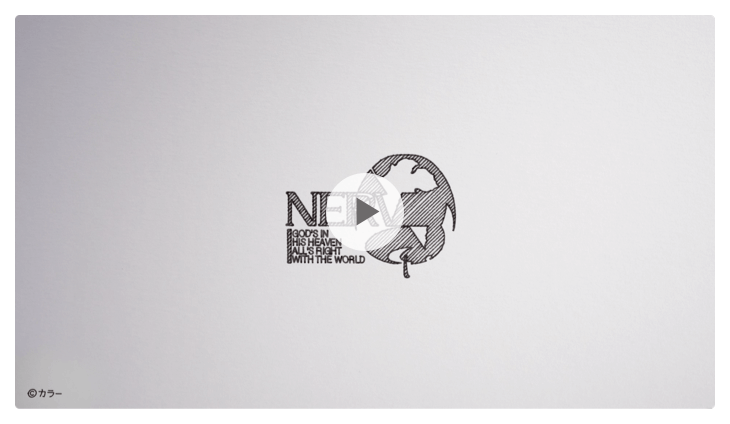 Various Disaster Information
All in one place
Get a wide range of disaster prevention information, including weather and typhoon forecasts, rain radar, earthquake, tsunami and volcanic eruption alerts, emergency weather warnings and landslide information, river information, heavy rain risk notifications, and even J-ALERT (Civil Protection Information) and dam discharge notifications.

By interacting with the map on the screen, you can zoom in on your location, or pan across the country and see the cloud cover, typhoon forecast areas, tsunami warning areas, or the scale and intensity of an earthquake.
FEATURE 01
Providing users with the most appropriate disaster information
The home screen displays the information you need at the time and place you need it. When there's an earthquake, the home screen will show you the latest information. If another type of warning or alert is issued while the earthquake is active, the app will sort them depending on the type, elapsed time and urgency, so you'll always have the most important information at your fingertips.

The timeline screen shows you information related to your current location (or your registered areas) for the past three days. Before a flood or landslide caused by heavy rain, a lot of relevant information will be available, so you can confirm and react to the immediate situation at a glance.
FEATURE 02
Push Notifications for Important Information
We send out different types of notifications depending on the device's location, the type of information and level of urgency. If the information is not urgent, we send a silent notification as not to disturb the user. For more urgent situations where a disaster is time-sensitive, a 'Critical Alert' alerts the user to an imminent danger. Notifications like Earthquake Early Warnings (Alert level) and Tsunami Warnings will be forced to sound, even if the device is in Silent or Do Not Disturb modes.
※ If you prefer not to have critical alerts, you can disable them at any time from; [iOS] Settings > Notifications > Critical Alerts, or [Android] Settings > Notifications > Silent Mode Exception (Android 9.0 or later). When disabled, critical alerts will be treated as normal notifications.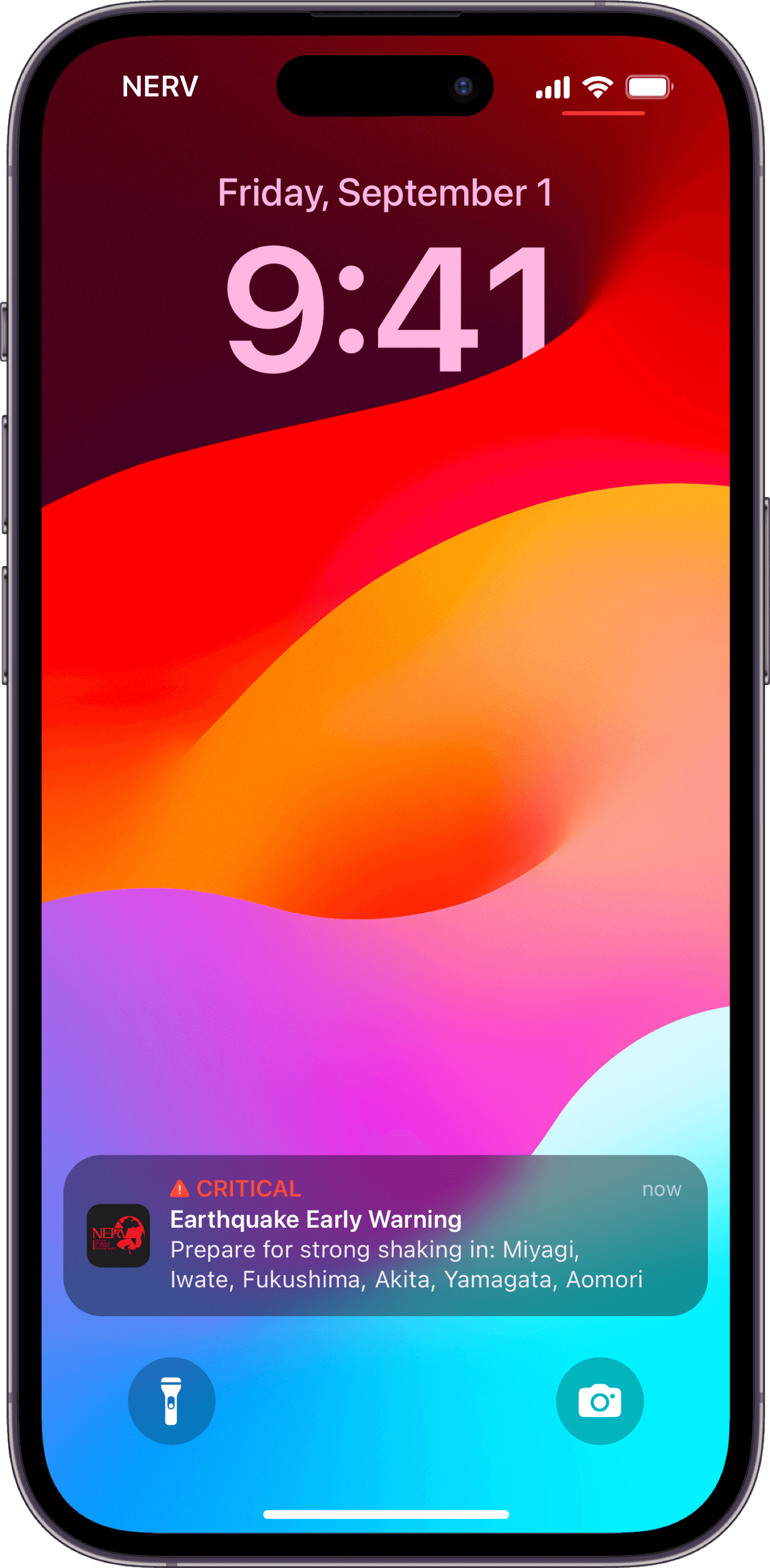 FEATURE 03
Barrier-Free Design
We paid close attention when designing the app to ensure our information is accessible to everyone. We put a focus on accessibility, with colour schemes that are easy to distinguish for people with colour blindness, and use a font with large, clear letters so long bodies of text are easy to read.
FAQ
How can I test a "Critical Alert"?
The testing of notifications is supported as of iOS: ver 2.5.0 or later, and Android: ver 2.4.0 or later.
How to test notifications

You can test your notifications by going to the "Menu" tab at the bottom, under "Settings" tap "Push Notifications", and then select an option under "Test Notifications".
I no longer receive Notifications after updating my phone's software.
If you aren't receiving any notifications after an OS update, it's possible that your device token was not updated for some reason. Please try uninstalling and reinstalling the app.
Will I still receive notifications like Earthquake Early Warnings when Low Power Mode is turned on?
Even when Low Power Mode is turned on, it should not affect your ability to receive notifications, including Earthquake Early Warnings.
There was an Earthquake Early Warning, but I didn't receive a notification.
If you haven't set Location Services to "Always Allow", you will not receive Earthquake Early Warning notifications. If you're not in the Alert area, or an area with an expected Seismic Intensity of 3 or higher, you will instead receive an Earthquake Early Warning as a Silent Notification.
Why do I need to set my Location permissions to "Always Allow"?
In order to receive Critical Alerts and to ensure that you are accurately notified of disaster prevention information, we recommend that you set your Location permissions to "Always Allow". By choosing "Always Allow", we can accurately determine which area you are in and optimise what notifications are appropriate for your location.

Can I still use the app even if I've set my Location permissions to "While Using the App"?
You'll still be able to use the app. If you choose to allow Location Services only while using the app, you will still receive notifications about your registered locations, but you will not receive Critical Alerts, or notifications about information corresponding to your current location. If you turn off Location Services or allow it only while using the app, you will only receive notifications as Silent Notifications. If you would like to be audibly alerted, you will need to set your Location permissions to "Always Allow".
Supporters' Club
The "NERV Disaster Prevention App Supporters Club" is a fan club where users can choose to support the NERV Disaster Prevention App through a monthly subscription. You'll get access to exclusive perks, like "early access" to new/unreleased features, an increased number of registered locations, and access to members-only content on higher plans.

In order to continue to provide a stable service and to strengthen our research and development efforts, we decided to establish the Supporters' Club. For more information, take a look at the Supporters' Club homepage.
Plans
E Plan

¥250/m*

More Registered Locations
Digital Membership Card
Early Access Features
EE Plan

¥480/m*

More Registered Locations
Digital Membership Card

Early Access Features
Members-only Content
* Please note that the subscription price is determined by the App Store/Google Play Store based on the country/region your Apple ID/Google Play account is associated with, and may be different from the price displayed above.
In the aftermath of the Great East Japan Earthquake, when everything came to a standstill, the availability of information was the difference between life and death for many people. While some lives were saved by the information they had beforehand, others may have lost their lives because of it.

There must have been many lives that could have been saved if the information had been available immediately afterwards.
We, modern people, trust our lives to information.
Without information, action is delayed.

But when a disaster of that magnitude strikes, you have to use your intuition and act on your own before waiting for information.

Excerpt from the description of the permanent exhibition at Rias Ark Museum
Disaster Awareness Series
We created this series of commercials as a message of 'self-discipline' to ourselves. Japan is a country that experiences frequent natural disasters, so it's important that the message we wish to convey with this series, is that "so long as you're here, be prepared".
Voice Actor: Koichi Yamadera / Planning and Production: Gehirn Inc. / Video Production: mimoid inc. and Shunsuke Sugiyama / Music Production: PASOCOM MUSIC CLUB / Cooperation: Geospatial Information Authority of Japan
The NERV Disaster Prevention App is a smartphone service that delivers earthquake, tsunami, volcanic eruption and emergency warnings, as well as provides weather-related disaster prevention information for flooding and landslides, optimised based on the user's current and registered locations. It was developed to help people living in or visiting an area where damage is expected to occur, to accurately assess the situation and make quick decisions and actions.

With information received directly through a leased line connected to the Japan Meteorological Agency, our proprietary technology enables the fastest information distribution in Japan.
Battery Consumption
In order to receive notifications about disasters related to your current location; [iOS] Set Location permissions to "Always Allow" and enable "Background App Refresh". [Android] Set Location permissions to "Always Allow".

When you set the app's location permissions to "Always Allow", the app will periodically retrieve your location in the background. This doesn't happen often, so the battery usage impact is negligible. Additionally, if "Low Power Mode" is enabled, the app will not update your location in the background in order to save power.
Your Privacy
Gehirn Inc. is first and foremost an information security company. The security and privacy of our users is our highest priority. We take great care not to collect excessive amounts of information about our users through this application.

Acquired location and registered location information is used only for displaying disaster prevention information, and for sending push notifications. The location information that's sent from the app to the server is first converted to an area code. An area code is roughly equivalent to a zip code. Only that code is sent to the server, meaning the user's exact location is never sent to the server.

For example, if you were located in "Chiyoda-ku, Tokyo", it will be converted to a code that is used by everyone in Chiyoda-ku, so no one will ever be able to trace your exact location back to you. Additionally, the server doesn't store past area codes, so your movements cannot be tracked.

All data sent over the internet is first encrypted, and all data stored in the server's database is encrypted before being stored. If you ever set your location permissions to "Do Not Allow" or "Allow Only While Using", the registration information will be deleted from the server. Additionally, if the user ever uninstalls the app, the registration information will automatically be deleted from the server roughly one month after the app last tried to communicate with the server.
License
The name and logo of "NERV" are used with the explicit permission of khara Inc., the copyright holder of the "Evangelion" series, and Groundworks Corporation, which manages the rights to the series.
The fonts "AXIS" and "DIN 2014" are used under the paid license terms set by each respective type foundry. The "Inter" font is graciously used as part of the SIL Open Font License 1.1.
The explanatory text for the permanent exhibition of "Rias Ark Museum" on this website is taken from the keyword "Information" panel of the permanent exhibition "History and Records of the Great East Japan Earthquake and Tsunami Disaster", and is used under the permission of Rias Ark Museum.